We are the Barbaro family, the proud owners of a WA family-owned, an award-winning local butcher who provide the best meat products and services in Perth. Our success stems from our rich history and endearing family values which translate into everything we do.
Migrating from Italy in the late 50s, Vincenzo Barbaro cultivated a life in Perth, Western Australia as a humble bricklayer and family man. But he'd always had a passion for meat.
From his small hometown of Sinopoli in Calabria, Southern Italy he'd developed a taste for premium cuts, first hand industry experience, and the intuitive knowledge of how to turn a cut of meat into a culinary masterpiece.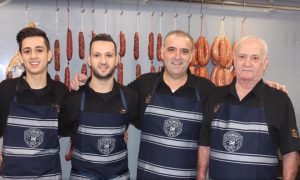 This love of food translated to his sons, Raffaele, 19, and Domenic, 21, who purchased the small shopfront in Greenwood Kingsley Plaza on the 20th November 1987. Their dream was to share their culinary passion and heritage with the local community they grew up in.
Having just finished his apprenticeship, Raff quickly learned the ropes of running a butcher shop. After his younger brother David took over from Domenic some years later, Raff took over in 2009.
But regardless of ownership, it's always been a family affair. Brothers, wives, and sons Stefan and Jayden all grew up in the back of the shop and learned the trade firsthand. Nonno Vincenzo came to work after retiring early from bricklaying and passed on his love of food and some classic family techniques. If there's one thing you should know about us, it's that the Barbaros know their meat – and we love it.
Our high standards, premium meat products, and excellent service are what lifts us above the competition.
Since 1987 our culinary dream has only grown bigger and bigger. We're renowned in the neighbourhood for giving our customers the best quality service and advice. We slice your cuts to your specific requirements, and provide advice on complimentary marinades, preparation techniques, and accompanying sides and dishes. We provide you the same premium cuts that we put on our own dinner table.
Devotion to quality and range, strong family values, and giving back to our community is what we're all about.
Welcome to the family !